Watching this week's episode, "What on Earth is Wrong?" with my good friend Ranisha when the following happened: "wait. She has no legs. NO LEGS! NO LEGS! NO LEEEEEEGS!" It's not quite the 11th hour for the show, but nonetheless, unexpected character history was unexpected. It's the second week in a row they've done this: shed some light on a heretofore unmentioned character trait. Last week, Sam got a crazy brother. This week, Julia apparently has no legs and has been fooling us all. Outside of legless Julia, this week's episode presented the idea that maybe Molly is simply crazy and there never was any pregnancy. This whole episode has a dream like quality to it, to the point where sometimes you--the audience--began to wonder whether or not it was all false to begin with and the past four episodes have been some sort of psychotic break. Don't worry, though. You're not going crazy. It's not a dream, there is a baby. It's a boy!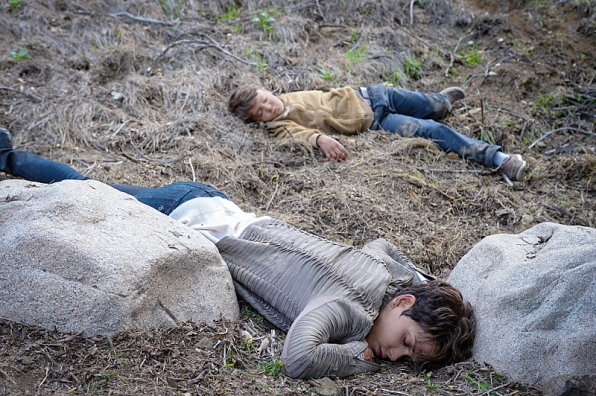 Molly, aboard the good ship SS Medical Experiment, is having all sort of weird dreams. She dreams of being back home, being very pregnant, only with Marcu's baby, and of floating gravity defying orange juice. And apparently the two astronauts feel the need to write "Earth is Awesome" on their fridge in colored magnets. All of this screams dream world. As of this moment in the episode, we're not sure what the medical team is doing to Molly, but based on the laser involved, I think it's safe to say that they are removing the baby. John, meanwhile, finds Molly and Ethan passed out in the woods and calls for the squad. Molly is whisked away to the nearest hospital, John informing the team that she is pregnant, while he tries in vain to wake Ethan up. The batteries in the robot-boy are fully drained and Ethan calls in Julia to help. Now, I don't object to legless Julia except that it came completely out of left field. Julia's is nothing more than a tertiary character; her purpose was as John's employee who happens to be in love with him and has a strong bond with Ethan. There's nothing you really need to add to that. Suddenly making her part robot via limb feels forced and contrived, a way of strengthening her bond with Ethan. "We're both robots, kid!" It also turns out that Julia never wanted John and Molly to adopt Ethan. She thinks the robot-boy should have gone to a home like originally planned but that John acted selfishly. Ah, love. It's fickle, is it not?
Miscellaneous Notes from What On Earth is Wrong?
--Ethan spent this entire episode pretty much passed out except for an extremely creepy moment where he sat up and began to talk. It was very "the robots are coming to kill us all!"
--"I know when I'm hallucinating. I've gotten a lot of practice lately."
"Nothing would make me happier right now than to be crazy."
--I almost felt bad for Julia when John told her that they were not partners, but that she is his subordinate.
--Impregnated by light. Just gotta toss that out here one more time.