Sometimes, I watch an episode of Mad Men and can't quite figure out what is happening. Granted, it's a rare occurrence but this week's episode "The Runaways" is such an event. Typically, after I finish an episode, I have a page of notes with basic plot details, but also themes that are extending across the entire program, mixed in with character observations and the occasional costume note. This isn't to say that I have nothing to add to the discourse of this episode, but rather I found "The Runaways" to be a fractured and disjointed hour of television. There were too many story lines, some of which seem to have no place in the episode (like Betty's party) except to serve as a contrast to other, more important events. Contrast is important, of course, but I didn't need to see the conservative goings-on of the country elite vs the liberal festivities of the Californians to understand that we're looking at culture vs counterculture. That theme has been replete in Mad Men for a few seasons now. I suppose if we were to lock down a theme for this episode it would be that when people find themselves disjointed and out of place, they naturally become who we always knew they would be. None of the reactions from out characters this week, when they find themselves on the outside and looking in, were all that surprising. They acted to the best of their ability, each according to their own gifts and talents and psyche. But if Mad Men is essentially the story that people never change, then this episode was really about emphasizing that thesis and driving it home.
do the work
. Of course, I wouldn't exactly be adverse to seeing Lou get punched in the face--he has got to go! There is a very specific reason why Don wants to fly out to California that has nothing to do with his bi-monthly meetings with Megan in an effort to "fix" their marriage. Remember that California has always been a type of paradise for Don; it's a land where he can shed his skin as Don Draper and be Dick Whitman; it's a land associated with sunshine as opposed to night, fresh air, as opposed to city smog. And, most importantly, it's a land associated with Anna. Anna Draper's ghost hovered (metaphorically) all over this episode. She was there lurking in corners, her presence both a good thing and a bad thing, depending on who you are.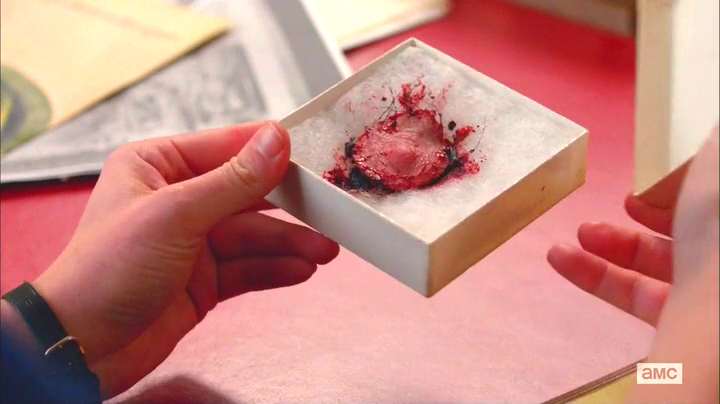 When the humming and the conspiracies and the invasion get to be too much, Ginzberg packs up and heads to Peggy's, where he becomes the invader. This scene was supposed to set you on edge, especially when Peggy wakes up and finds Ginzberg starting at her. Turns out, he thinks the computers are turning everyone into homosexuals and he must mate with Peggy in order to cure him. The invading force is turning him into someone else, another sign of his eventual psychotic break. If he can find some sort of relief from the pressure to conform and become another person, then he'll be back to being okay. And this leads us to one of Mad Men's more bizarre and shocking moments. When Michael enters Peggy's office he says, "can't you tell? I am myself again." The fear of change coupled with the pervasive invasion lead to this moment: nipple in a box. I'll say this for Mad Men, I never saw this one coming. By removing a piece of himself, Ginzberg managed to be himself again, only this time his self-mutilation was out there for the world to see. It makes me wonder if he has ever self harmed before, trying to get back to being a calmer version of himself. And poor Peggy. She knows that his life is now over; he'll be carried off to the ward where he'll be mistreated and mishandled and potentially misdiagnosed. We're still a ways away from understanding and sympathy for the mentally ill in the 1960s, and this is probably the last we'll see of Ginzberg. However, this whole situation does cause Peggy to see the computer in a newer light: it's the enemy.
Miscellaneous Notes on The Runaways
--I didn't touch on Betty's role this week because frankly, I've talked about Betty once this season and once is plenty. But I suppose a few observations can be noted here. Betty's failed party is a contrast to Megan's party. Both don't exactly go according to plan, but they are contrasting each other in what sort of party they are. Betty's is so conservative I half expected her to be serving apple pie. And even Betty's costume for this party reflects that: demur, pink, floral, trendy but somehow still stuck in the 1950s. As the world gets more liberal around her, Betty will plant heels and become part of the neoconservative movement that springs up in response. Not only is Megan contrasting Betty, but so is Sally who arrives home, broken nose and all. As Betty gets more conservative, Sally will get more liberal. Sally might miss some of the counterculture experiences (like sex and drugs) because of her still young age, but she's not going to miss the effects of counterculture, namely liberalism and feminism. Sally will be the girl who burns her bras in protest, while Betty will be the woman who scoffs at the young generation as a bunch of uniformed and ignorant hippies. Betty wants her daughter to be exactly like her ("It was a perfect nose, and I gave it to you!") but that's never going to happen.
--Some really great acting from Elisabeth Moss and Jon Hamm this week.
--Please fire Lou
--Not enough Joan in this episode.